Unwind Your Mind  
Experience freedom from from the everyday stressors keeping you stuck in fight or flight so you can live a less stressful, more successful life through trauma-informed, touch-centric coaching. 
Yes, please!
Touch Centric Coaching For Embodied Empowerment with Victoria Angel Heart
Do You Need To Unwind Your Mind?
If you're like most of my clients, you have a stressful job. You're overworked, under-appreciated and feeling burned out.
Your personal life has been suffering, and you feel lonely, isolated, and disconnected.   
Most likely, you've found yourself falling into bad habits, losing touch with who you used to be, and feeling more disconnected and isolated than ever since the pandemic started. 
Maybe you feel more distracted than usual, or like you have a harder time staying focused or getting things done.
Maybe your sex life has suffered and you're not feeling as much pleasure as you'd like. 
Maybe you've put on some pandemic pounds, found yourself suffering from insomnia, or began to experience anxiety and depression like never before.  
The pandemic stressed your nervous system and put you into a longer, deeper state of fight or flight than you may have ever experienced, and you're not alone. 
What if you could carve out time in your busy schedule to slow down, be nurtured, and listen to the still, small, wise voice inside of you? 
It's time to remember that you are a human BEing instead of a human DOing things all the time. You deserve a chance to just let yourself BE. 
The time is now to calm your nervous system and learn how to work with it as you release old tension, trauma and stories that are being held in your body and tap into your intuition and inner guidance system. 
I'm here to hold you and nurture you as you Unwind Your Mind and move into a state of embodied empowerment. 
The Touch Centric Coaching Model
You've probably tried traditional talk therapy or worked with a coach. Have you ever wanted them to hold you and felt frustrated that their scope of practice left them unable to give you the touch you needed when you needed it most?  
You're used to sitting across from them in a chair, or on Zoom. 
Wouldn't it be nice if you could snuggle up and just relax while you talk about your life, process big feelings, or undergo transformative practices? 
For the last five years, Victoria has refined her unique, touch-based approach to coaching as she's spent thousands of hours working 1:1 with clients. 
What makes Victoria qualified to touch you? 
*Certified Cuddlist with 5 years of platonic touch experience 
*Certified in Somatic Attachment Therapy 
*Trauma-informed EFT training 
*Highly trained in Wheel of Consent work, including mentorship by Dr. Betty Martin and attending multiple Like A Pro trainings 
*Trained in warm water professional cuddling and aquatic therapy 
*Will be completing training in the Tamura Method of touch and energetic bodywork in Fall 2023 
What if you have some reservations about touch? 
You're not alone! Many clients come feeling touch-deprived, anxious about receiving touch, or have fear from past trauma. 
Victoria is highly trained and very attuned, and believes in moving at the pace of trust. 
Clients initiate all touch, and are taught Victoria's signature Inner GPS practice to get clear on when, how and if they want to be touch. 
All touch, unless specifically done in the context of an embodied intimacy practice with pre-defined boundaries and limits, is always platonic. 
Sometimes arousal happens, and it's welcomed and celebrated, as are all other bodily functions. Victoria can teach and guide the movement and dissipation of erotic energy as needed.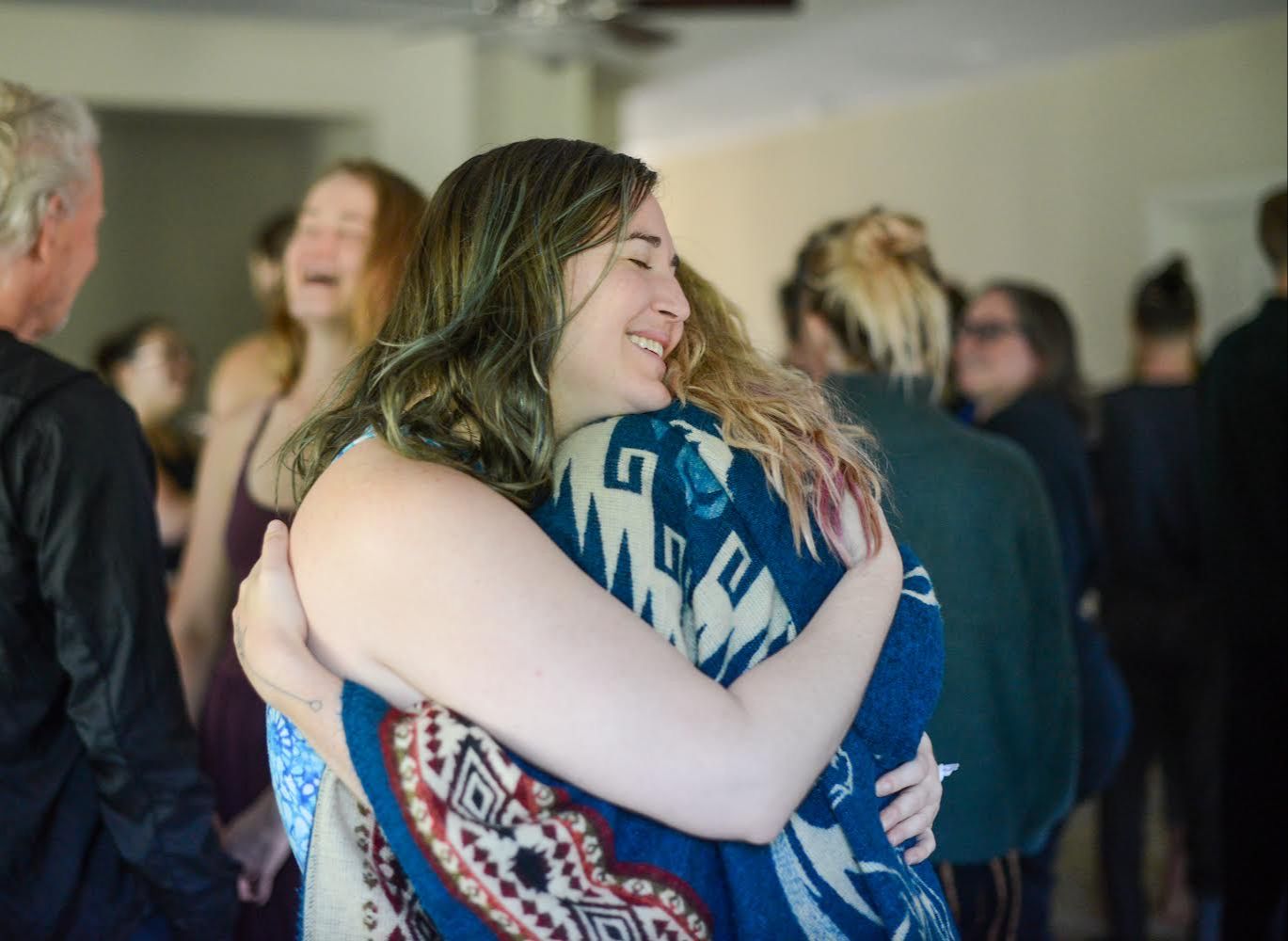 How does this work? 
Coaching with Victoria takes place in 3-5 month containers that meet approximately 3x monthly for 75-90 minutes, depending on the package selected. 
If you're feeling a yes in your body, start by filling out the Discovery Questionnaire below. If you're still a yes, book a call with Victoria to discuss the details, then have a session to get started! 
Who is this for? 
Women with children who are used to being the one giving the nurturing touch, but who aren't getting enough of it in return 
Men who's touch needs are no longer getting met at home and who want a safe, non-sexual container to receive and be held
Folx of all genders who desire more touch, less stress, and more embodied empowerment. 
What's Involved in the Unwind Your Mind Process?
Start with Nervous System Down-regulation Through Cuddle Therapy & Songs, and Guided Musitations (sung meditations)
Learn the REAL Relief Method for Lasting Relief from Everyday Stressors
Develop and Strengthen a Daily Mindfulness Habit + Morning/Evening Routines
Learn Non-Violent Communication and Neuro-Linguistic Programming Techniques for Healthy Relationships
Befriend Your Mind and Transform Limiting Beliefs through Timeline Therapy & EFT (+ option of adding a non-ordinary state of consciousness journey)
Reduce Burnout and Deepen Self Love with the
Head to Heartspace Method
Here's What You'll Get When You Sign Up
Have you ever wanted your therapist to hug you, or for your coach to hold you when you have big feelings? When you sign up for Unwind Your Mind, you are experiencing a new paradigm of coaching that is centered around safe, consensual, nurturing touch. 
Touch Centric Coaching
Weekly meetings with Victoria take place while cuddling in the warm salt water hot tub or in her office cuddle bed. While we are snuggled, you'll experience the REAL Method for Stress Relief, Mindful Habit Change, Timeline Therapy, Emotional Freedom Technique, NeuroLinguistic Programming, or Embodied Intimacy practices as catalysts for change.
Co-Regulation + Self-Regulation Practices
Humans can't survive without touch, but far too many of us aren't getting nearly enough for our nervous systems to feel at ease. Victoria will guide you through co-regulation & self-regulation practices that you can take home to do with your friends, partners, and on your own to strengthen your mind. She'll sing to you, too!
Personalized Meditations
Experience the magical power of sound healing and guided meditation to drop you deep into a state of presence, where you can access your intuition, gain clarity and calm yourself when stressful moments arise, all customized for you!
App-Based Learning Support
Using Victoria's courses and Dr. Jud Brewer's digital therapeutics apps, you'll have on-the-go resources to deepen your understanding of mindful habit change and help you unwind your mind in the moments you need it most. 
Are You Feeling Ready To Unwind Your Mind? 
Use this discovery questionnaire to find out if the Unwind Your Mind Process is right for you! 
I'm So Ready!
ABOUT VICTORIA
Victoria Angel Heart, M.Ed, CMT-P, is a passionate pleasure "permissionary" dedicated to empowering folx to embrace intimacy within themselves, their relationships and with all of life. With a background rooted in nurturing connection, Victoria has been providing professional cuddling services to support tech professionals in the Bay Area since 2019. In these transformative sessions, she skillfully facilitates stress relief, body awareness and the experience of unconditional love within a safe, trauma-informed container.
Drawing from her extensive expertise, Victoria seamlessly integrates professional cuddling into her comprehensive embodied intimacy coaching programs. These unique programs are specifically designed to guide burnt-out and stressed-out folx on a journey of self-reconnection, helping them rediscover the joy of living in their bodies and hearts while exploring new dimensions of pleasure and authentic connection. She also actively mentors aspiring professional cuddlers and organizes engaging events throughout the Bay Area, fostering a supportive and vibrant community.
Victoria's diverse training includes in-depth studies in sexological bodywork, neo-tantra, somatic sex education and the Wheel of Consent. Her expertise extends to certifications in NLP (Neuro-Linguistic Programming) and EFT (Emotional Freedom Techniques). Having honed her mindfulness meditation teaching skills at UCLA, she proudly serves as a featured instructor on the Insight Timer app. Her live classes have touched the lives of over 20,000 students, and her guided meditations and music have garnered half a million plays.
With a lifelong passion for music, Victoria has been singing professionally since the tender age of nine. Since her relocation to Maui in 2018, she has embraced her role as a leader in Kirtan and sacred music. Tracks from her debut album, "Into The Heartspace," produced by the esteemed Grammy-nominated producer, Ben Leinbach, are available for streaming on all major platforms. Additionally, Victoria spearheads Hearts in Harmony, a mindful community singing collective based in San Francisco.
Victoria firmly believes in the power of authentic connections and holds the belief that there are no strangers—only friends waiting to be embraced. She finds profound joy in teaching live classes and supporting individuals, recognizing the transformative healing that occurs when we uplift one another, genuinely listen with presence, speak from our hearts and embody intimacy, together.
Here's what clients say about working with Victoria
I have learned so much from Victoria. My world has opened up because my mind is open and my heart is open to experience these precious moments in a way I couldn't before!
- Katie
Absolutely enjoyed this course with Victoria. Love every moment as it challenges my thoughts, who I thought or believe I am. Would definitely recommend working with Victoria!
- KayKay
I honestly can't express the significance of the changes I'm seeing in myself after working with Victoria. Her spirit is magical, and I feel incredibly at ease with her. If you're nervous about trying, don't be! She'll help you love yourself again.
-Brian
Brian
Working with Victoria changed my life. I know that's cliche, so let me be more clear. Working with Victoria gave me my confidence back. She helped me to identify and build relationships with my inner voice, which has helped me catch myself when I start thinking too negatively.
She helped me learn to meditate, to be mindful, to make space for what *is* right now, in that moment. She helped me improve my relationships with my family. From my wife, to my kids, to my parents, things are better than they probably ever have been. She helped me realize that I have everything I need already inside me. Once we identified some of my goals and I began taking steps toward them, I started to see that I was going to be able to reach those goals. I saw that it wasn't impossible. That I was worthy.
She helped me to learn so much about myself and the world around me, that I honestly don't know how I got this far in life without her teachings. I am happier, healthier, and more optimistic than I can ever remember. And that's all thanks to Victoria!
A Note From Victoria
I'm so happy to have you here. Whether you're looking to have someone hold you while you process your big emotions, or you want to be free of your work stress and live a more embodied life, trust that you came to this page perfectly on time. You are ready to make the changes you need in order to live the life of your dreams. I'm so happy to nurture and support you on along the way!
Now Are You Feeling Ready To Unwind Your Mind? 
Use this discovery questionnaire to find out if the Unwind Your Mind Process is right for you! 
I'm So Ready!